Analysis: 'Global Tech Cold War' Forces Communications Rethink
PRovoke Media5th August 2020
Rising geopolitical tensions carry significant PR implications not only for Chinese brands such as TikTok and Huawei, but for the corporate and agency world in general.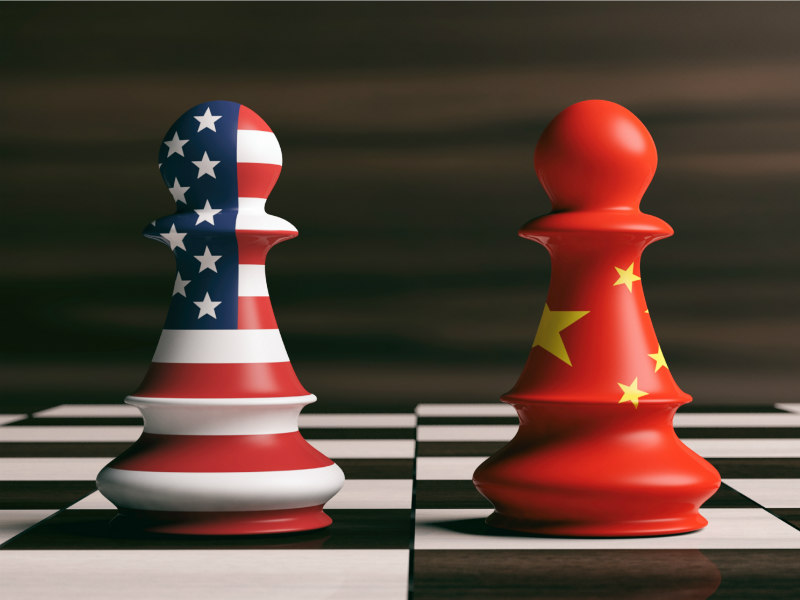 Chinese brands have typically been stymied by numerous challenges in their attempts to go global. And these have been analysed at length in these pages, including as they do issues that involve corporate transparency, employee culture, media relations and agency support.
18 months ago, for example, we examined the public relations lessons that Huawei had learned from its decade-long effort to win over sceptical international audiences. At the time, the diagnosis was cautiously optimistic; despite the perils posed by an increasingly unpredictable global environment, Huawei's willingness to embrace a more transparent mindset was beginning to pay dividends.
If nothing else, though, this year has taught us to rethink whatever assumptions we might have had about the normal state of affairs. And that goes for geopolitics too. The global trade war between the US and China, abetted by the flashpoint that is Hong Kong, has mushroomed into a challenge of existential proportions for at least one other Chinese company — viral teen phenomenon TikTok, which President Trump has said he will ban if it is not sold to another company.
TikTok's woes come after US pressure forced the UK to reverse its decision and ban Huawei from the country's 5G networks. Others, notably Canada and New Zealand, are likely to follow suit, undoing much of the progress that Huawei made from its 2019 efforts to build a stronger business case for its technology. 
All of which raises significant questions, not only of the PR strategies deployed by Chinese companies in their attempts to succeed overseas, but of the extent to which politics can determine a brand's positioning, and of the implications this has for PR firms and their ability to provide counsel. 
"The current geopolitical climate throws the fundamental assumptions on which we have built businesses over the last 40 years into doubt, and it forces us to consider anew the ramifications of operating in a world with walls between markets," says China PR veteran David Wolf, who leads Allison+Partners Advisory Services offering.  
'"We are in the middle of a global tech Cold War"
Many of those interviewed for this article are actively involved in supporting Chinese companies such as Huawei, TikTok owner ByteDance, Alibaba and Tencent. And the most common refrain is that these companies are simply "victims of circumstance," as one agency advisor to Huawei puts it. 
Elliott Zaagman, for example, has written extensively on the cultural challenges that have bedevilled Huawei's attempts to build a global brand. He reiterated many of the observations that others have made regarding the Chinese technology giant's overseas PR strategy — specifically, that it has adapted to notable effect in its bid to win the hearts and minds of regulators and consumers. 
"However, I think that their problems are far more than just PR," Zaagman told PRovoke. "They can do very little about how closely connected they are with the CCP, and cannot influence China's worsening international relations."
That may be true, but they pose PR challenges nonetheless. ByteDance, for example, has attempted to separate TikTok's international operations from the Chinese company, but the app remains banned in India, along with facing Trump's assault on its US operations. Other Chinese apps may yet feel a similar level of scrutiny, with WeChat, Zoom and Aliexpress all potential casualties of escalating tensions between their native country and an increasingly inhospitable US environment.
"The reality of free trade and a free and open internet is that they have been made possible by the US military and security umbrella," says Zaagman. "As China grows in its ability to challenge the US militarily, their tech companies will lose access to markets. As they have few allies, none of which have developed consumer markets, that poses a challenge for them."
Or, as Wolf puts it, "geography matters again," calling a halt to the march of liberal economic policies that were expected to open up markets and minds across the globe. 
Huawei and TikTok, perhaps naively, had placed their faith in the hope that a superior product strategy would be enough. The last few years saw Huawei, in particular, accept that this must be accompanied by a sophisticated communications strategy. But even that, according to Huawei communications VP Joe Kelly, is subject to an environment where Chinese companies are pronounced guilty "without evidence, or even due consideration."
"There is little doubt that we are in the middle of a global tech Cold War, with the US aggressively targeting China," Kelly told PRovoke. "As in many wars, truth is the first casualty. The attacks on Huawei by a national government against a private business are unprecedented. We are facing this storm in the social media age, where truth and fact-checking are often replaced by assumption and opinion. These are issues faced by any company in 2020, not just those headquartered in China. The biggest lesson is, be quick to respond, quick to react, and quick to challenge when the facts are disregarded."

"We need to trust you first"
Speed is no doubt important, but being quick is not going to be enough to protect Chinese companies from the harsh glare of international scrutiny and suspicion. Nor, as some might suggest, is putting their faith in a superior manufacturing or product strategy. Instead, Chinese brands are learning once again that building trust is uniquely susceptible to the 'global issues environment', as one agency recently described it.
"They are learning that adhering to standards of behavior as a company is just as important as adhering to technological standards," says Wolf. "Building a better mousetrap is no longer enough for the world to beat a path to your door. We need to trust you first."
Above all, though, the key lesson may be that geography remains a critical consideration, particularly when provenance is viewed as being as important as product. 
"They are learning that a company that does not distance itself from the actions of its home government — either implicitly or explicitly — risks being perceived as an extension of that government, particularly in countries where the rule of law is not yet ascendant," explains Wolf. "And they are learning that the way to succeed when you face those issues in your home market is to move, to domicile yourself in a market where you are regulated rather than coddled or co-opted." 
Faced with the charge that they threaten the national security of rival countries, Chinese companies like Huawei and TikTok could be forgiven for retreating towards a more nationalist stance. Zaagman, though, believes that this disconnect between internal messaging and external brand building is ultimately counterproductive.
"They are seeing the way in which internal culture needs to be aligned with PR messaging," he notes of Huawei specifically. "In many cases, they'd say very nationalistic things internally and in Chinese, while saying something very different externally and in English. When they are placed under scrutiny, those inconsistencies are brought to light."
That reflects one of the biggest challenges that face Chinese companies as they attempt to become global brands. An aggressive, low-trust internal culture may help drive stellar sales results, but it can easily become a liability when companies face the kind of global scrutiny that has become the norm for China Inc in recent years.
TikTok, for example, has been criticised for the lack of effective internal messaging that has accompanied the company's dramatic experiences in recent weeks. "The vacuum of up-to-date internal information augmented the perception, both internal and external, that TikTok and ByteDance have trouble faring the mounting external pressure," writes PingWest.

"Brands are being forced to pick sides"'
Chinese companies are not the only ones feeling the heat from the marked rise of geopolitical tensions. And while it has always been fashionable to say that business and politics cannot be separated, many brands have been able to operate under the assumption that they can. 
That may well be an illusion that is impossible to maintain in 2020, more than a decade after China started shutting out US services like Twitter and Facebook. "Nowadays, the two spheres [business and geopolitics] are more closely intertwined and brands are being forced to take a stance and pick sides," says Marc Sparrow, who previously worked at the Hoffman Agency and Golin in Hong Kong before departing to launch an agency in France. 
"In industry commentary on rising nationalism and its effect on corporate comms, I sense a desire to return to an era that I think is now over — when corporate reputation could be divorced from the broader geopolitical context."
That much has been brought home in Hong Kong, where UK banks HSBC and Standard Chartered have been forced into public displays of obeisance for Beijing's new National Security Law in the city. 
"Agencies and brands currently straddling the divide with a foot both in China and the US will, as the two nations drift further apart, have to choose which of the world's current two great powers they would rather align with — and place both feet firmly in that camp, hiving off operations as required," says Sparrow. "As seems likely with TikTok."
Ultimately, as more than one agency head notes, US companies cannot afford to alienate China — as evidenced by the speed with which companies such as the NBA, Apple and many others have chosen to abandon their heavily-touted values when faced with pressure from the world's second-largest consumer market.
"Whatever brands might say about being able to resist pressure and requests from the Chinese government, we've seen with the likes of HSBC and Cathay Pacific in Hong Kong that this simply isn't true," says Sparrow. "If the authorities demand public (or indeed private) displays of obedience, you had better provide it if you want to continue doing business in China. And my view is that complying in this way will inflict increasing amounts of reputational damage in markets outside China."
If brands are in the firing line, then what of agencies? Already this year, we have seen US-owned PR firms opting out of Hong Kong's controversial global PR tender. Few believe that their activities are currently under sustained geopolitical scrutiny, but it is not unheard of for PR agencies to take such considerations into account. Middle Eastern PR firms, for example, have found themselves affected the Saudi-Qatari conflict, while, on another continent, Ketchum parted ways with its Russian Government assignment.
Even so, the notion that US PR firms may need to stop working for Chinese companies is given short shrift by agency heads in this part of the world. Edelman may have found itself ensnared in a Chinese political scandal a few years ago, but there are few signs that major US agencies — such as BCW, Ruder Finn, Ogilvy and Weber Shandwick — are reconsidering their exposure to specific assignments. 
"The cost of doing business in China is such that you can't pick sides," says one. "When you are an MNC you have responsibilities and you can't hide away. At the same time, you can't pick fights with everyone."
Ultimately, it seems more likely that all businesses, whether Chinese corporates, US brands or multinational PR firms, will need to become more comfortable with a higher level of uncertainty. That may well encourage greater conservatism in decision-making, but Wolf believes that fortune will favour the brave.
"The companies who will win, Chinese or otherwise, are those that are comfortable operating in a chaotic rather than a stable environment," he says. "When companies who face uncertainty with courage communicate their attitude, that optimism becomes infectious, and those companies attract interest, business, and growth that help them emerge from tough times with greater strength. In short, the way to face the darkness is to be the light."