APACD: Media Leaders See Drawn-Out Recovery Reshaping Corporate Culture
PRovoke Media7th July 2020
In an APACD webinar, WSJ and Bloomberg journalists outlined their view of the Covid-19 recovery, amid rising geopolitical tensions in the Asia-Pacific region.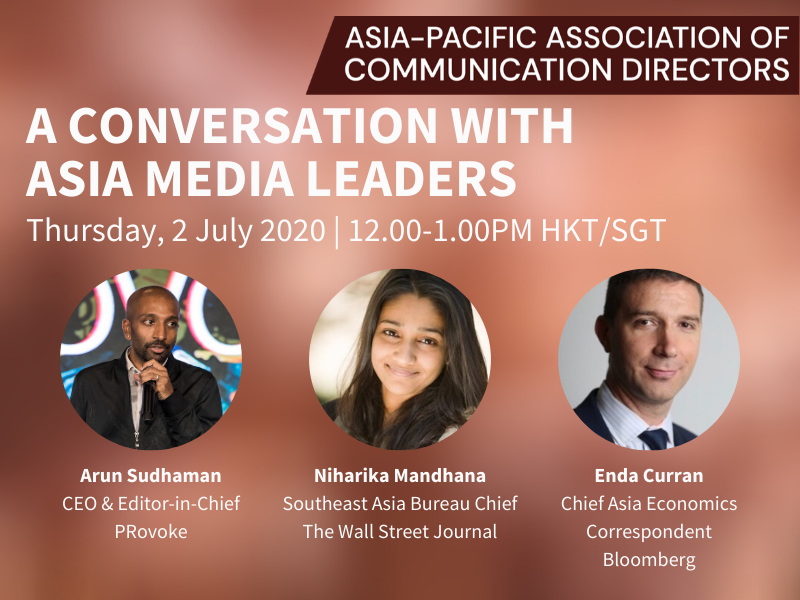 While a spirit of optimism is critical to withstanding the Covid-19 pandemic, so is a sense of realism. Last week, the World Health Organization warned that the worst may be yet to come, and in an Asia-Pacific Association of Communication Directors (APACD) webinar, journalists from the Wall Street Journal and Bloomberg echoed the view that we are still very much in the middle of the crisis.
As businesses tentatively reopen, more people are now daring to think in terms of recovery. But the dynamic nature of the situation makes it difficult for policy makers and business leaders to plan even as far ahead as next month, said Niharika Mandhana, the Wall Street Journal's Southeast Asia bureau chief. The shape of the recovery is still in debate. The Journal's own imaginative line (for the moment at least) is that it will look like "the reverse image of the square root symbol".
Pre-vaccine limbo
Mandhana pointed out that even though some developing countries such as Thailand and Cambodia might appear to have contained the coronavirus, the economic picture for most is "awful" as they are "seeing shocks of a nature and depth they've never seen before". She expects this economic damage to be "much, much harder to deal with" than the virus itself.
Citing the International Monetary Fund (IMF), Enda Curran, Bloomberg's chief Asia economics correspondent, noted that the Asia-wide economy is expected to shrink by 1.6% as a result of the crisis—its first contraction in living memory. Curran sees the V-shaped recovery that is now apparent in Asia as just a "mechanical rebound". As to when the regional economy will return to 2019 levels, let alone meaningful growth, is anyone's guess.
Asked whether "business as usual" still exists, Mandhana said that with "everything in a sort of new normal paradigm at the moment", the priority for many companies was rethinking their supply chains both to cope with the present situation and mitigate future threats.
"One of the lessons that companies have learned is that they need to invest some brainpower in trying to reorganise how things get made in the world," she said. 
Remote working and workforce flexibility are two outcomes of the pandemic that are likely to become permanent, Mandhana said. Nonetheless, Zoom meetings have their limitations and both she and Curran added that travel restrictions have highlighted areas of work where physical presence is still a necessity, especially for manufacturing companies.
Effective prototyping and the personal touch of a salesperson are difficult to transmute online, Curran noted. The absence of trade shows has rendered deal-making and market entry difficult for a lot of companies, Mandhana added.
 
That said, reticence to travel and even to consume is likely to remain an issue. "Until there is a vaccine and it's rated as an antidote, consumers are going to remain cautious and tourism, general consumption and recreation cannot return to where they were—people will remain nervous," said Curran.
Unemployment fears combined with being homebound for an indefinite period equal far less incentive to buy things beyond the essentials, Mandhana agreed. A return to regular consumption habits seems a long way off. "I think it's going to be slow [and happen in] fits and starts because of things like pent-up demand but also underlying weakness," she said.
International relationships unravel
This state of affairs is compounded by heightened tension between nations. "It's probably the most fragile period in some time when it comes to geopolitical relations in this part of the world and even globally," Curran observed.
"You've got China and India, China and the US, Australia and China, and all the other territorial disputes in the region. All of that is a dampener on business confidence and will be a dampener on expansion plans. Companies will [also] be reluctant…when it comes to doing business with China or the US."
Even if the looming US election sees Trump displaced, "I don't think anyone expects the broad China-US story to go back to where it was four or five years ago," Curran said.
Mandhana sees a "growing asymmetry in power" between China and its neighbours as the country becomes more assertive. The cooperative-competitive balance in their ties is becoming tougher to achieve. India's recent decision to ban dozens of Chinese apps including TikTok, for example, can be seen partly as a political rebuke but also as a response to a "longer, kind of building, suspicion within the establishment in India about Chinese national security moves", she said.
"I think some of this suspicion is starting to harden and will be more difficult to peel back than it was in preceding years, where there would be clashes, there would be differences, there would be disputes and we would see them either be managed or restricted to the diplomatic or military sphere," said Mandhana. "I think it's going to get a lot more complicated.
Countering the wall of noise
Something else that has undoubtedly become more complicated is handling the flow of information and discerning fact from falsehood. Mandhana called misinformation "one of the biggest developments to affect politics, economics, the way governments think about their messaging, the way policies get made and the role the media has".
For the average person, it has become "harder to navigate between authentic and non-authentic sources". Overloaded with information, people "feel like they can't differentiate between the information they get via WhatsApp texts, random forwards and things they read on blogs and on websites". This scenario is not necessarily new, but the pandemic appears to have exaggerated it, and journalists such as Curran and Mandhana see it optimistically as incentivising people to subscribe to traditional news outlets as a countermeasure to the "wall of noise".
The pandemic may also have raised tension between journalists and communications directors. Asked what their "biggest beef" with communications leaders was, the journalists were straightforward.
"A communications person who is informed and responsive is worth their weight in gold," said Curran. "The biggest problem I have is if you deal with people who aren't across the subject matter or the area they're meant to be dealing in—or not even in the loop. That's not unusual." Unanswered emails or phone calls naturally add to the frustration.
Mandhana said it is important for both sides to be able to convey and process information efficiently and for the communications director to focus on the journalist's requirements for a particular story rather than their own communications objectives. She also values the ability to quickly identify and access the most relevant person in the organisation for any given topic.
Additionally, communications representatives should avoid acting as gatekeepers. "A good comms person should be comfortable and confident enough that a reporter can have a relationship with the executive with the understanding that both will operate on good terms," said Curran. "The reporter will be responsible and accurate and the executive won't go outside the internal boundaries. The opposite [attitude] is just going to shut down the whole conversation. If you have a PR person who doesn't want the reporter having any access to their people, that's not going to inform things. It's going to leave voids in information flow on both sides."
In simpler terms, even when a journalist has direct access to someone in an organisation, communications professionals should seek to act as "knowledge enhancers", Mandhana said (while admitting that she finds the term "tacky"), and avoid becoming a "road bump" that journalists feel they have to work around.
Overdue introspection
The discussion concluded on the point of so-called stakeholder capitalism—the concept that shareholders, customers, employees and suppliers have an equal hand in the way a company operates—and the effect the pandemic is likely to have on it.
Both panellists agreed that it would be likely to accelerate, suggesting that the pandemic has raised awareness of both societal responsibility and internal defects.
"I think a lot of smart leaders are taking this opportunity to start thinking about deeper, more difficult questions about representation, about inequality, about structural bias," Mandhana said.
"In tumultuous times, some leaders might say, we need to focus on the basic, most urgent problems at hand and deal with the structural stuff later. But the smarter ones are doing the opposite, which is saying, this is a period of turmoil and things are changing anyway. Why not use it as an opportunity to do some of the difficult things that we may have been ignoring?"