Comms Execs Awaken To The 'New Normal' Wrought By Coronavirus
David Blecken19th May 2020
Technology, sensitivity and local awareness are seen as essential tools to navigate a sense of ongoing crisis as business reopens.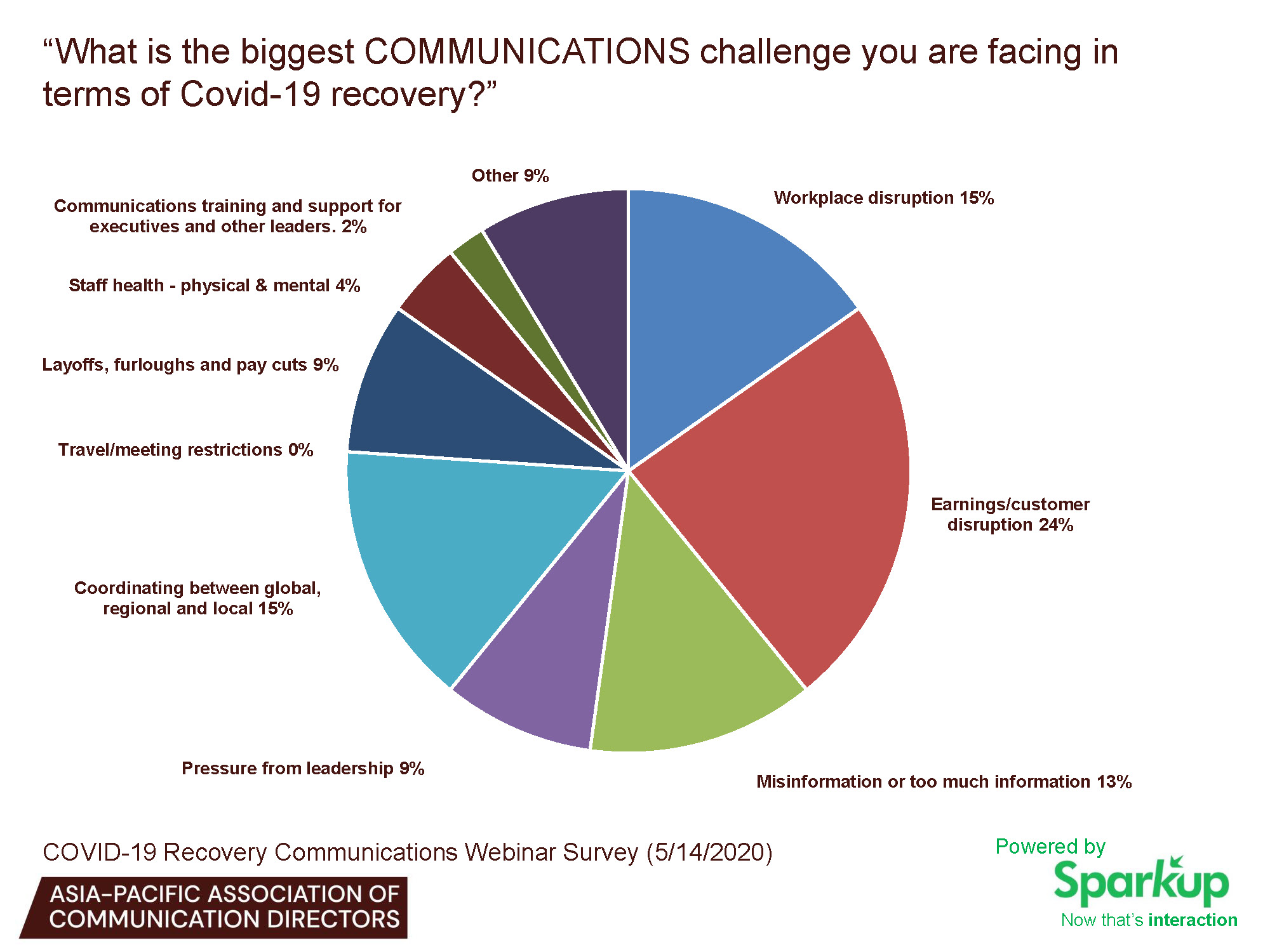 The menace of the Covid-19 pandemic is still all-too real, yet companies are already under pressure to show themselves to be on top of the "new normal".
APACD members can access the webinar recording and exclusive research findings here. 
No one really is. In a sentiment poll that the Asia-Pacific Association of Communication Directors (APACD) conducted of its webinar audience, "exhausted" was the most prominent descriptor.
For one client, working life has become a daily series of "mini crises that never end", said Margaret Key, chief executive of MSL APAC and MEA. She described the situation as being in "permanent crisis mode"—but said that for her part she finds the transition to a new reality, which involves reassessing the role of communications in business, "energising".
The biggest communications challenge as companies enter the recovery phase is earnings and customer disruption (24%), followed by workplace disruption and coordinating between global, regional and local markets (15%), according to a further APACD survey.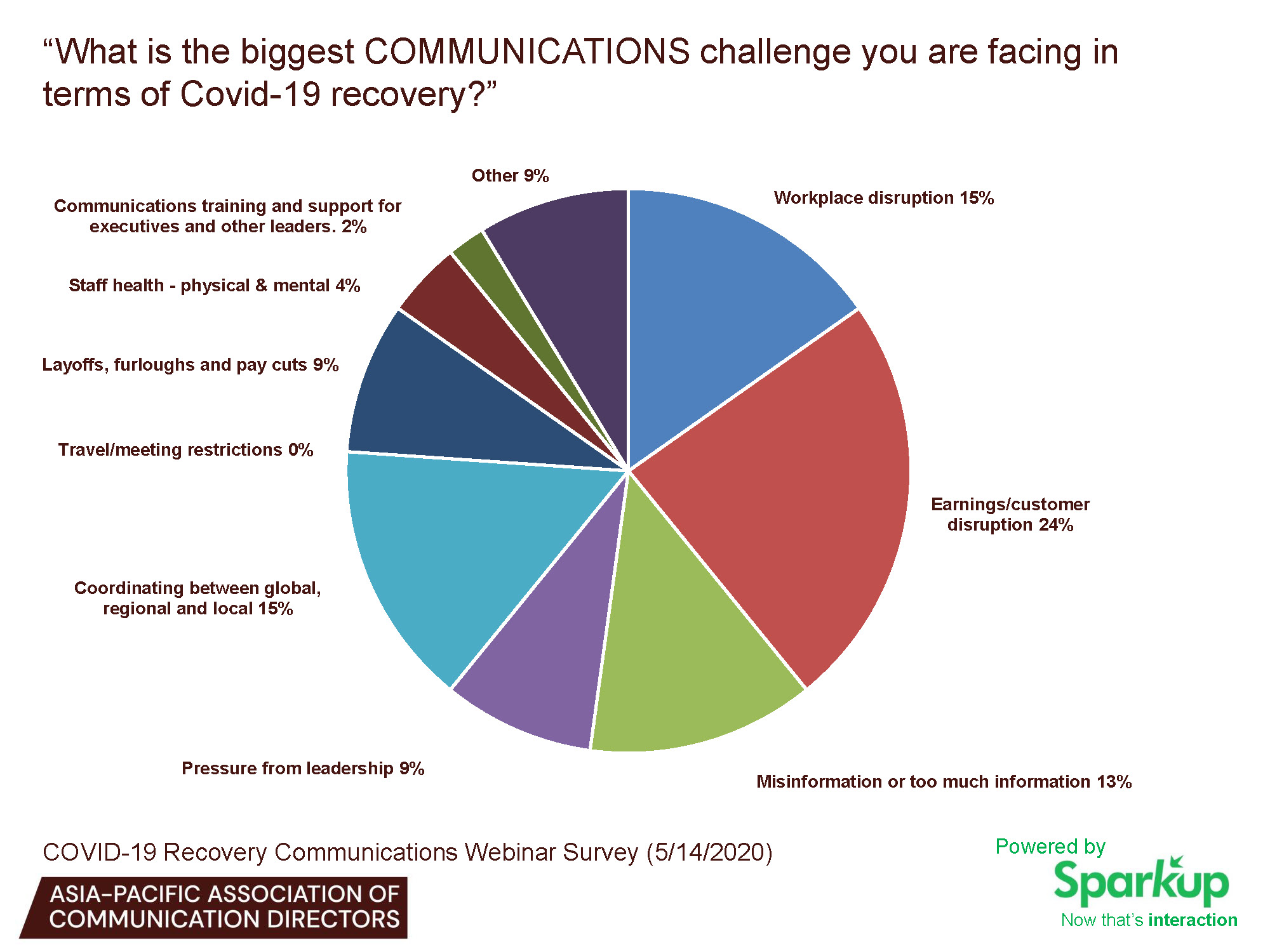 Key said that in Korea, where she is based, it was notable how quickly companies had adapted to tech-enabled remote working given the country's notorious 'be present' office culture. Hyundai, for example, used a chatbot to archive millions of documents and make them accessible to staff.
Coordinating between global, regional and local offices, meanwhile, is a complex challenge that reflects corporate structure, said Lee Nugent, executive vice-president and regional director of Asia-Pacific at Archetype.
"People forget that while the pandemic is global, the response needs to be local and in some cases hyper-local," he said, noting that countries are all at different stages of economic or general health recovery. "A mistake I've observed is that people think top-down communications from headquarters is the right way forward. The best organisations recognise that that's not the right thing to do."
Effective information sharing at the different levels is the way to achieve buy-in for a more localised response, advised Azmar Sukandar, Asia-Pacific head of communications for Diageo. She multinationals based in the west, where the disease is more virulent than in much of Asia, needed to recognise that some markets were further along the curve "listen to where the future is" when determining a worldwide communications strategy.
Happily, Key said one client related how Korea currently enjoys trust at an "unparalleled level" from affiliates and serves as a model of sorts for recovery communications strategy.
The top priorities when it comes to that strategy are employee engagement and customer marketing, according to the survey. Employee engagement is set for an added layer of complexity given the that working from home is likely to persist indefinitely.
Nugent said he sees the best companies making regular checks as to the wellbeing of remote workers, facilitating flexi-time and remote social gatherings. "I have seen a real focus on employees as people, not workers," added Key. Given the uncertainty ahead, deepening such a corporate philosophy seems not only desirable but mandatory.
Customer-facing communications have understandably taken on a more serious tone than before the crisis. In-webinar research indicated that we can expect "greater focus on humanity and impact, not just emotive messaging and sell", more empathy and less purely "fun" messaging, and much more emphasis on ecommerce and digital channels. A good deal of effort is also likely to go into understanding how people's needs have changed, as opposed to relying on existing insights into consumer behaviour.
McDonald's' has chosen to focus on safety and staff security, observed Key. But she noted that there was room for levity. For its Oreo brand, Mondelez ran a TikTok challenge encouraging people to balance cookies on their head and catch them in their mouth under the theme of playfulness at home. While promoting cookie sales, the campaign also solicited donations for a children's charity.
"It was altruistic, connected to brand values and ensured continued consumer engagement," Key said.
As the crisis appears to lift, shareholders will expect companies to raise profitability—a scenario that could create tension. But Nugent said continued sensitivity was imperative as striking the wrong tone would damage sales.
"This is the unknown and sometimes we're going to miss the mark but if we're listening we'll be able to adjust the tone and react, and digital platforms allow us to do that more effectively," he said. "I don't think it's a choice between selling and living by your values. They have to go together."
Key said people generally want to "rally around a cause of hope and solidarity", and that focusing on workers, such as those in a factory, was one way to project "authenticity" while delivering a commercial message.
A positive outcome of the crisis is that it has helped strengthen the role of communications within organisations, the survey showed. It has also added rigour, with a majority saying research and analytics now play a bigger role in their activities. When it comes to setting strategy, though, communicators still look to corporate leadership for guidance. While not surprising, such an approach carries the risk of insularity.
The in-webinar survey did offer some reassurance in that customer data will likely continue to be the primary driver of insight. Slightly less higher-ranked but nonetheless important sources included social media data and examples from other companies.
"We need to make sure we are [also] looking to the outside world and reflecting back into the organisation," Nugent said.
APACD members can access the webinar recording and exclusive research findings here.