Optimism Returns To Asia-Pacific Communications Industry: Study
PRovoke Media1st March 2021
Telum Media survey finds that Asia-Pacific PR industry is optimistic about 2021, but will focus on training rather than hiring.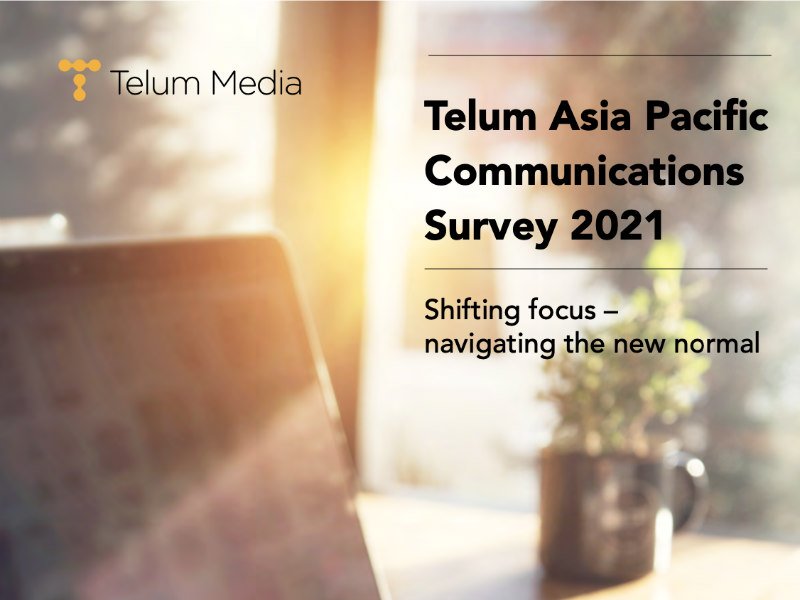 While almost nine in 10 senior communications professionals in Asia-Pacific are optimistic about the outlook for their business this year, they will be prioritizing advancing the skills of existing staff to meet additional demand over taking on new employees, according to a recent industry study.  
In its first survey of the communications industry in the Asia-Pacific region, Telum Media found that, after a disruptive year during which the COVD-19 global pandemic left no industry untouched, 87% of respondents were  cautiously or fully optimistic for the outlook of their company.
"In a year where communications, both internal and external, could make or break a company, the role of the communicator within a business or as an agency partner has been vital for the success of brands and businesses," reads the Telum Asia-Pacific Communications Survey, published last week.   
Indeed, 77% of respondents said that their function or communications teams have become more important this year, with brand building, thought leadership and reputation management named the key objectives across APAC in 2021. 
For respondents in East Asia, crisis management tied with reputation management as the number three objective. 
A greater recognition of the communications function and the focus on the external audience this year should lead to firstly, better prospects for both in-house teams and agencies, and secondly, opportunities to communicate more strategically, Telum said. 
 
"I can only see what we do growing, and clients needing more of it," said Lachlan Johnston, director of communications and media for AMP, a financial services company based in Sydney. 
 
"Reputation matters, and all companies — particularly new ones as they list on the stock market – will pretty quickly grip that reality." 
Media engagement and digital marketing were the top areas that will be added this year.
Telum Media, a media relations platform focused on Asia-Pacific, surveyed 450 senior in-house and agency communications professionals across the region, namely ANZ (Australia and New Zealand), Southeast Asia (Indonesia, Malaysia, Philippines, Singapore), and East Asia (Hong Kong, China), in the final two months of 2020. 
While senior leaders in Japan, Macau, Thailand and Taiwan also contributed, their responses were rolled into the sub-regions East Asia, Southeast Asia, and Asia-Pacific because there were fewer responses from them. East Asia consists of Hong Kong, Japan, Macau, Mainland China and Taiwan. 
With the heightened focus on brand building, thought leadership and reputation management, both in-house teams and agencies will need to develop the skills of their employees. 
Across Asia-Pacific, 31% of respondents said they plan to expand skills of their teams and 22% planned to hire; 21% said they will either maintain or reduce the size of their teams. 
Respondents in East Asia have more aggressive hiring plans, with 24% saying they plan to increase their headcount; about 29% will expand their employees' skills. 
A big focus will be on developing broad skillsets within teams, Telum said, while contending with onboarding any new team members remotely. Communications leaders will be looking at different ways to retain a strong culture while investing in their people, the report added. 
"It's all about going back to the basics this year," said David De Castro, director of communications at TaskUs, a Philippines-based firm that specialises in business process outsourcing. 
"A refresher on communications skills, especially writing for different purposes and platforms, will benefit even a seasoned practitioner. It is worth considering how the basics apply to a more digital/virtual landscape as we live within a pandemic," he added. 
Following a challenging year, agencies indicated that they are almost twice as likely as in-house teams to be hiring people in 2021. About 24% of agencies across the region said they plan to add employees, compared to 20% of in-house teams. 
Agencies are also more eager to outsource tasks to freelancers (16%) than in-house teams are (10%). 
As for the tasks that are most likely to be outsourced, both in-house and agency teams are expecting to spend the most on design and creative outsourcing, closely followed by audience and customer research, Telum said. 
A piece of related good news is that almost three-quarters of in-house professionals were optimistic about retaining or increasing spend on agencies in 2021. 
Meanwhile, the sweet spot for those hiring, Telum has found, are workers who have just graduated from university to those with about 10 years of experience. Only 3% are looking for communicators with more than 15 years of experience.