2022 CommsIndex: A-P In-House Leaders Expect Sustained Boost To Comms Value
PRovoke Media30th November 2022
Second edition of Asia-Pacific study finds in-house leaders bullish about the communications function's prospects, as corporates emerge from the pandemic.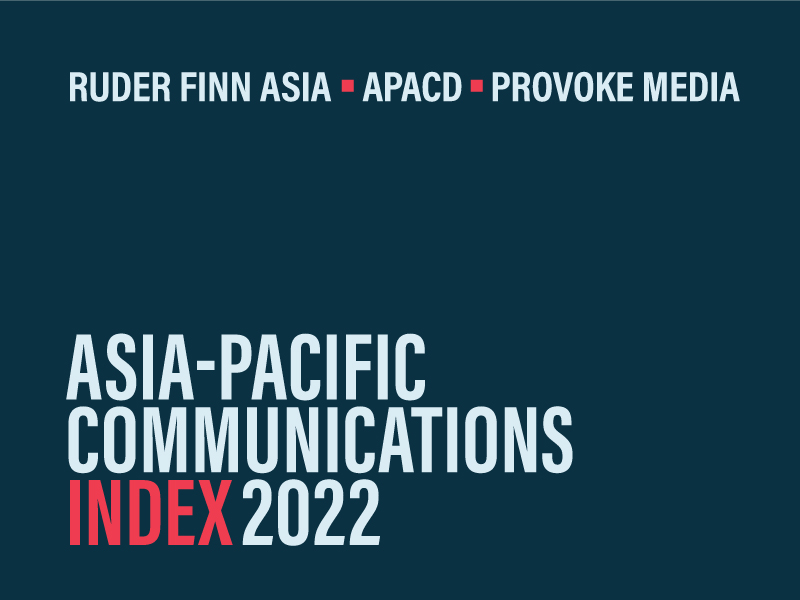 Asia-Pacific in-house professionals expect a sustained boost in the value of the communications function, even as corporates emerge from the worst of the pandemic-era challenges that have defined much of the past three years — according to the second edition of a landmark study that polls their spending, staffing and career plans. 
The 2022 Asia-Pacific Communications Index is conducted by the Asia-Pacific Association of Communication Directors (APACD) in conjunction with Ruder Finn Asia, and polled more than 120 senior in-house communications executives (including APACD members) across the region during the third quarter of this year. 70% of respondents identified as 'senior management' or higher, with the majority based in Singapore, India, Hong Kong or Australia.
"As in 2021, Ruder Finn wanted to create a research study that had real value and relevance to the corporate communications community. This is data those on the client side can use to negotiate budget and compensation increases as it reflects the latest industry statistics," said Charles Lankester, Ruder Finn Asia EVP of global risk and reputation.  
"The results certainly reflect an appreciated function; there is recognition of the value communications professionals bring to organisations navigating the complexities of a post-pandemic world, and many of APACD's members have increased their team's headcount last year," added APACD president Keith Morrison. "However, relatively speaking, teams and investment dollars remain lean and there's a lot more upside that we're missing out on.
"An industry resolution for 2023? Listen more to our internal decision makers, speak their language and adapt our function to meet their needs more specifically," concludes Morrison. "Or, you might say, do our own PR better."
Value, investment & optimism
55% of respondents express high confidence levels about the next 12 months, almost exactly the same proportion as recorded in last year's survey. More than three-quarters, furthermore, believe the events of the past couple of years have been helpful for the perceived value of the communications function within their organisations. 

More than seven in 10 describe the perceived value of their function as 'extremely valuable' or 'very valuable'. Crucially, 79% do not expect this value to decline as their organisations emerge from the pandemic, addressing one of the key concerns regarding the 'pandemic dividend' — in which the Covid-19 crisis has reinforced and elevated the critical value of empathetic public relations across multiple stakeholder groups.

Budgets do not necessarily reflect this optimism. While 27% of respondents spent more than US$4m on communications in 2021, that proportion rises only slightly to 29% in 2022. Those spending less than $1m, meanwhile, also holds steady at 27%.

When it comes to the business priorities underpinning the positive sentiment, 'business transformation' emerges as one of the most frequently cited areas by respondents, along with 'internal communications', 'crisis/issues management' and 'brand building'. 
The sustained sense of optimism carries through to investment in staffing as well. 35% of respondents report increased staffing levels in 2022, with only 1% expecting a decrease. 



Expenditure & evaluation



In-house teams, unsurprisingly, remain top in terms of communication budget allocation, with consultancies in second place. Technology sees a slight decrease compared to 2021. 

Of greater concern, once again, are the methods by which the effectiveness of PR spend is measured. There is little change in this regard; if anything, this year sees a higher proportion of respondents opting for media clippings, favourability/sentiment scores and awareness metrics — all three of which are proxies, rather than actual evidence of behavioural change or business outcomes. Advocacy metrics trail further behind, albeit ahead of 'harder' evaluation options such as company financials and sales.
"It feels somewhat like Groundhog Day reviewing the data relating to communications investment efficacy," said Lankester. "In 2023 momentum must come from the client side to challenge and insist on far better ROI metrics than, say, clippings. It should be very simple: if your consultancy can't measure where or how they have improved or strengthened your business, find a firm who can."
"Measurement remains the Achilles heel of the function; this ultimately limits growth and investment," said Morrison. "While the data clearly shows optimism for the function, we're probably still riding on the coat tails of the pandemic dividend. And, realistically, we can't plan to grow on goodwill alone; we need to invest time and money into measurement that is effective and meaningful to CFOs and other executive decision makers."


Half of our respondents (50%) attribute less than a quarter of their organisation's total marcomms spend to PR and communications, compared to other areas such as advertising, media and marketing. 15% peg the proportion at 25-49%, but for a third (33%), it's less than 10%.
Staffing, diversity & inclusion
While staffing levels are rising (as reported above), in-house communications teams remain relatively small in this region — with more than half (58%) numbering fewer than nine executives. Of note, 13% are 50 people or more.

Rather predictably, therefore, more than two-thirds of in-house comms executives (70%) continue to believe their function is understaffed. Spare a thought for the 3% of respondents who think their teams are overstaffed. 
When it comes to the primary responsibilities of the communications team, meanwhile, media relations remains on top, selected by 99% of respondents, ahead of corporate reputation (95%), crisis/issues (92%) and social media/monitoring (77%) — the same top five as 2021 — with employee engagement jumping considerably to 72% (vs 61% last year). Further behind are digital strategy (down to 43% from 61% in 2021), public affairs (42%), and brand activism (rising to 40%). 


There is little doubt of the importance of diversity and inclusion to Asia-Pacific in-house communications teams; with the highest proportion (49%) describing such measures as 'extremely important' and almost all (94%) deeming it as above average, the latter finding rising from 69% last year. Happily, there has also been significant progress in terms of D&I policies in this region.


More than half (51%) have an effective D&I policy in place, compared to 36% in 2021. Less than half (49%) describe their D&I policy as 'somewhat effective' or worse, versus 64% last year.