APACD Singapore Completes Finale with Circular Economy Participants in Cohort 2
APACD2nd June 2021
The second cohort of the APACD Sustainable Communications Programme (SCP) in Singapore concluded in mid-May.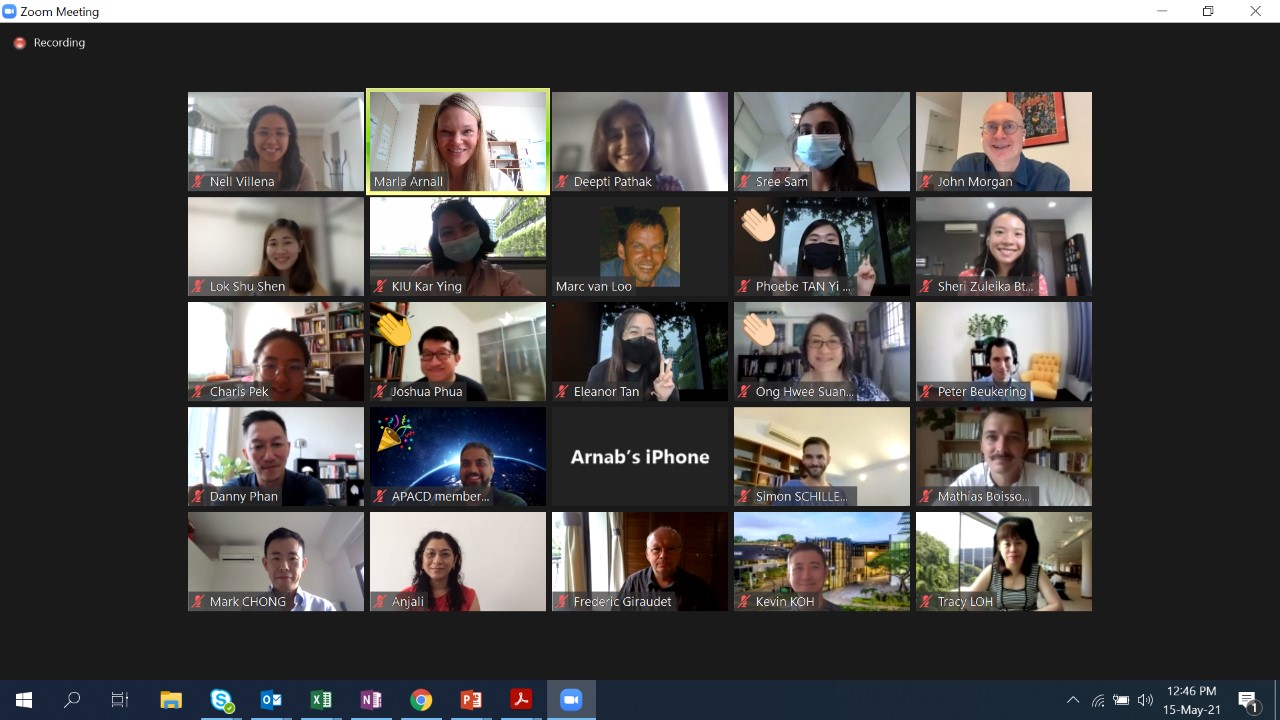 The second cohort of the APACD Sustainable Communications Programme (SCP) in Singapore concluded in mid-May, with a finale event featuring two student teams presenting pragmatic communication plans for circular economy enterprises Safe Water Gardens and Handprint. Safe Water Gardens is on a mission to provide safe and affordable sanitation for homes in rural areas across Asia while Handprint connects businesses with climate change projects worldwide.
Intentionally focused on sustainable businesses that support the circular economy, themes that emerged from this cohort included the increasing need for NGOs to have a customer-oriented strategy and support for digital and social channels in a Covid-19 world.
After an intense three months, the student teams presented their communications plans for their "clients" in an online session moderated by one of SCP's Steering Committee members — Marla Arnall, AMEA Consulting Leader at Mercer.
With a new tagline, "Taking on Tomorrow", APACD Singapore is reimagining the role of communications where every communications practitioner becomes a trusted and indispensable partner to the businesses and organisations which they serve. By mentoring our young talents with guidance as they work to solve the specific briefs of these circular economy players, APACD Singapore hopes to enable our members to meaningfully give back while creating value and impact for our participating social enterprises, creating a virtuous cycle.
Cohort 2 saw APACD Singapore reprise its partnership with the Singapore Management University (SMU)'s Lee Kong Chian Business School. Dr Mark Chong, SMU's Associate Professor of Communication Management, provided support for the programme throughout. Expressing optimism about the next cohort, Dr Chong pointed out that the SCP "differentiates itself from other internship programmes with its focused and solutions-based approach and invaluable face-time with senior leadership".
Designed for members of APACD Singapore, senior practitioners and our partner communications consultancies Wachsman and Edelman, senior executives provided guidance to the Year 3 and 4 students throughout their journey.
"Participating in the SCP has given me insights into the integral role that communications plays in helping brands achieve awareness and build their reputation. One of the 'a-ha' moments for me was about managing client expectations. This has given me real-life experience and prepared me for what the working world will be like," added Lok Shu Shen, Year 4 undergraduate at SMU.
Agency mentor to team Safe Water Gardens, Danny Phan, global chief strategy officer and managing director, Asia-Pacific, Wachsman, said, "The students should be extremely proud of the quality of work they produced. They created something that is sustainable and thoughtful in its approach and utility.  I was very impressed by their research, rigor and resilience. They clearly have what it takes to be successful professionals in strategic communications."
Peter Beukering, chief growth officer, Handprint, said, "The communications toolkit that was designed for us is extremely practical and usable. In this short span of time, the student team demonstrated a clear understanding of our unique challenges and were able to create a plan that we can put into implementation almost immediately."
"The programme has helped to form communities between the sustainable businesses, experienced and emerging communicators. Despite the challenges of the current environment, we are delighted to see our second cohort successfully graduate with satisfied clients. Throughout the process I was impressed by the purpose, perseverance, and pursuit of the craft by all involved be it mentors, our future makers – the students and our participating social enterprises. This is truly a differentiating experience for our community in Singapore," added Arnab Roy Choudhury, Chair, APACD Singapore Chapter.
The Sustainable Communications Programme (SCP) team is now gearing up for its third cohort launch in August and will continue to target two cohorts per year – Spring and Autumn sessions. APACD members are welcome to sign up as SCP mentors and join us in nurturing young communications professionals.
This programme is also running in Hong Kong, where it was pioneered and is now into the fourth edition. Communicators, social enterprises and students based in Asia-Pacific may reach us at info[at]apacd.com for more information. This initiative is supported by APACD with PRovoke Media as the media partner. To sign up as an APACD member, click here.