APACD Singapore Sustainable Comms Programme At Mid-Way Mark
APACD22nd October 2020
A Good Space and Junior Achievement get sneak peak on what social impact might look like when devised by student- led teams with agency and in-house mentors.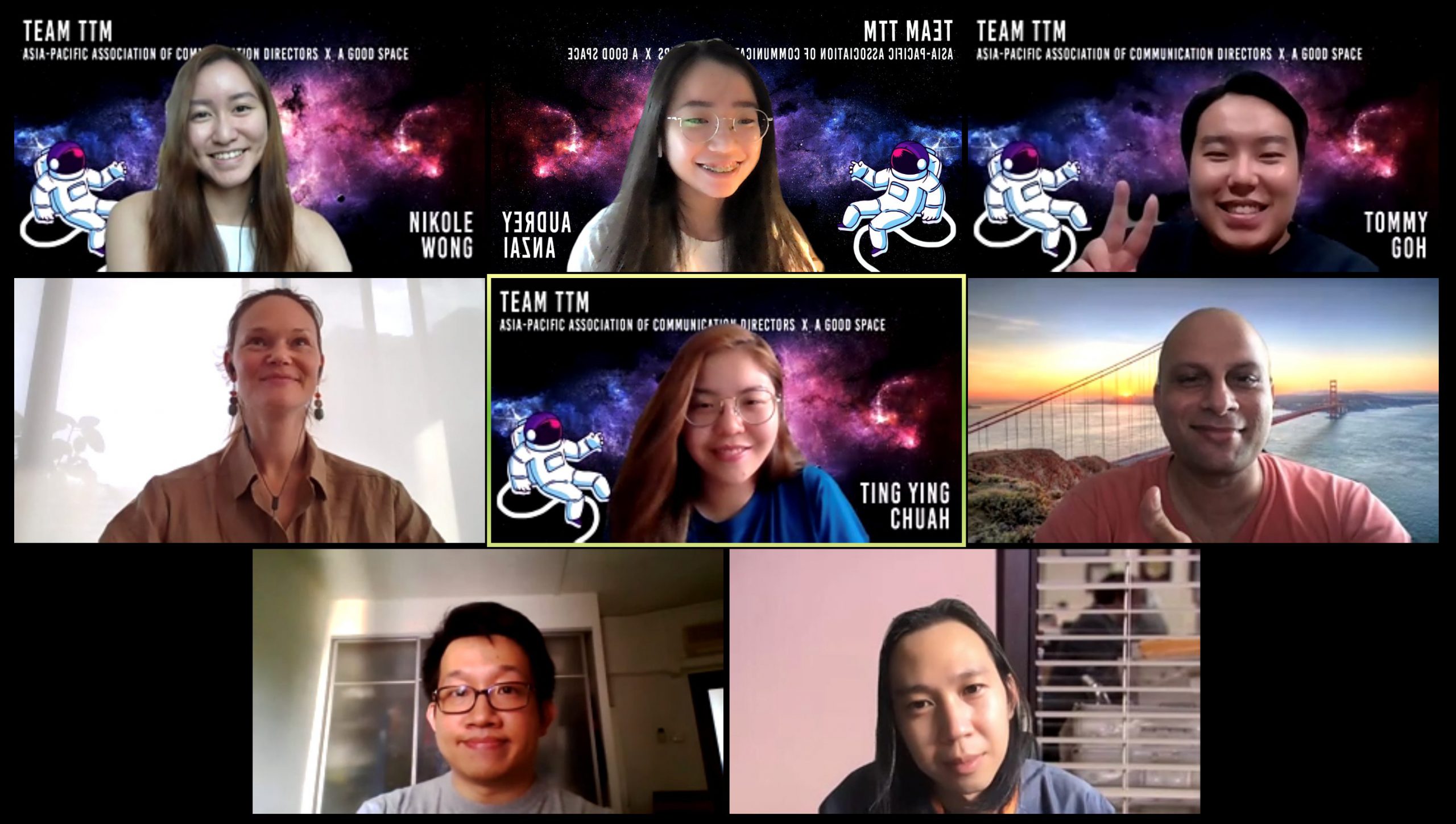 Recently, APACD Singapore Chapter hosted a virtual session where Singapore Management University (SMU) – led teams presented to local social enterprises Junior Achievement and A Good Space.
Although the end goal remains the same, the students have taken different paths in exploring how they can deliver social impact in our local communities.  With a hands-on approach to mentorship, APACD has focused its engagement with SMU on up-skilling the next generation of communications directors.
In practical terms, this has ranged from a deep dive on client engagement to shape a creative brief with A Good Space to developing recommendations for Junior Achievement across earned, owned and social media that factor in both digital-led KPIs as well as underpinning good creatives with sound budgeting.
"We were gratified by the students' openness to the coaching and mentoring," said Michele Minjoot, Mentor of APACD Singapore Chapter. "Despite their heavy workload and impending exams, their eagerness to learn and effort to piece together the strategy from the NGO's and mentors' feedback is truly commendable."
"Indeed, the future of the communications trade is bright if in-coming entrants have a similar work ethic and attitude, added Vanessa Wan, Mentor of the APACD Singapore Chapter.
During the mid-pilot review, APACD leadership learned the students were as interested in understanding the social mission of these non-profits, as they were in designing creative campaigns.
"As Singapore's first co-operative to mobilize diverse changemakers to create social change together, we're really pleased with the progress which this APACD-SMU team has gone to understand our mission," said Vincent Ng, Community Lead, A Good Space.  "We're learning valuable lessons about the power of intentional messaging and stakeholder segmentation.  Looking forward to recognizing the collective potential of this talented group of students and their mentors, as we move into the execution phase of this partnership."
"It was an energising experience to have a first glimpse into how these students have approached campaign development", said Rimmi Harindran, member of the APACD SCP Steering Committee. "From infusing gamification to build our curiosity, as well as providing realistic solutions that lend to their own personalities, both teams have a great head start to build on."
As APACD launched the Sustainable Communications Program in Singapore during a pandemic, the students have also been empowered to develop a creative brief that builds both awareness among the public at large in a way that can contribute to financial stability.
Although these students have been well equipped through SMU Communications courses and the CSR Committee, this APACD SCP pilot has still challenged them to think beyond story-telling via social media to developing a start-up mindset from developing elevator pitches to polishing sales presentation decks.
Both teams have been supported by Mentors including agency co-leads Allison + Partners and Edelman; as well as senior in-house members at APACD: Marla Arnall (Consulting), Harikumar Rajasekharan (Banking), Michele Minjoot (Financial Services) and Vanessa Wan (Energy).