Asia-Pacific: Economic Concerns Widen Trust Gap Between Business & Government
PRovoke Media27th March 2023
Edelman's 2023 Trust Barometer results for Asia-Pacific reveal that economic optimism has declined in the region, leading to worsening trust in government compared to business.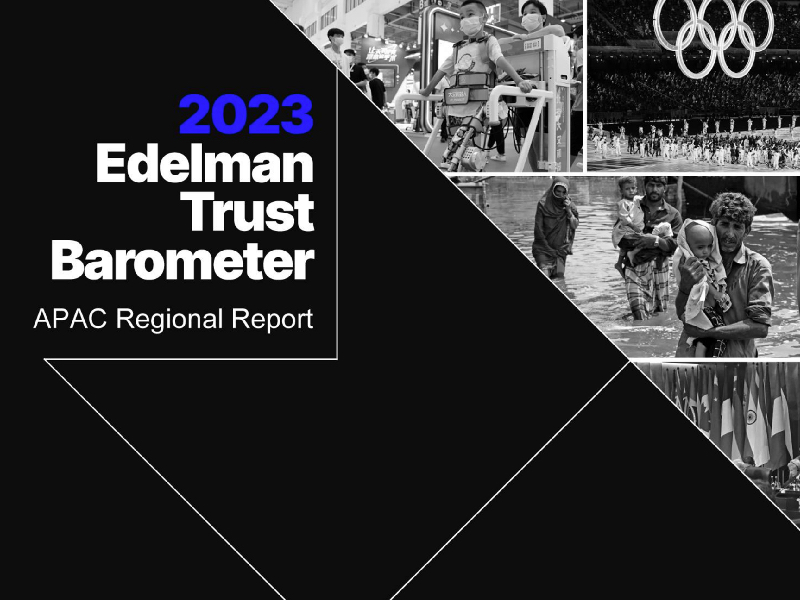 SINGAPORE — Edelman's 2023 Trust Barometer results for Asia-Pacific reveal that economic optimism has declined in the region, leading to worsening trust in government compared to business. 
Economic optimism has plummeted in the APAC region, even though "2022 was supposed to have been the year when the world emerged from the pandemic, with a promised return to normal life and an economic boom," wrote CEO Richard Edelman in an essay.
"Instead, we got an unprecedented Russian invasion of Ukraine, spiraling commodity prices, greater global food insecurity, skyrocketing interest rates, continued climate shocks, punishing Covid lockdowns in China and a retreat from globalisation due to geopolitical risks. This triggered a cost-of-living crisis among the lower and even the middle class worldwide," he continued.
These woes were expressed by respondents in the 2023 Edelman Trust Barometer for Asia-Pacific which revealed concern that families will not be better off in five years. 
The global report polled 28 countries from 1 November to 28 November 2022 with over 32,000 participants worldwide. The nine Asia-Pacific countries surveyed were Australia, China, India, Indonesia, Japan, Malaysia, Singapore, South Korea, and Thailand.
"In this year's Edelman Trust Barometer, we see how these macro pressures manifest at an individual level in a set of fears ranging from inflation to nuclear war. These sit on top of pre-existing worries about job losses to automation and the impact of climate change. The consequence is a descent from distrust to acute polarisation in society. Without intervention, we will see a continued move from a crisis of institutional trust to a crisis of interpersonal trust," said Edelman.
Worsening economy leads standard of living anxieties
Only 44% of regional respondents believed that they and their families will be better off in five years. In 2022, this proportion stood at 52% — almost 10% higher. 
Four out of nine APAC countries were in the top positions for the deepest optimism decline year-on-year. Malaysia, Australia and South Korea saw the biggest drops in Asia-Pacific.
Australia, in fact, recorded the second highest optimism drop out of 28 countries, only two points behind Colombia. China is the sole country to report an increase. 
Globally in the 24 of 28 countries surveyed, optimism is at record lows. The study found it has declined from 50% to 40% with half of the countries surveyed showing a double-digit drop.  
More than 80% of respondents said CEOs have a role in increasing economic optimism by investing in fair compensation, local communities, and skills training. 
Widening trust gap between business and government

Business is now the sole institution seen as competent and ethical, and is under pressure to step into the void left by other institutions. This regional institutional imbalance is reflected in a five-point gap between trust in business and trust in government at 65% and 60%, respectively. 
China had the most trust in both business (84%) and government (89%), while South Korea had the least in business (38%), and Japan held the least in government (33%). Thailand had the biggest difference in trust between the two institutions (15%), while India and South Korea had the least (4%). 
In comparison to global standings, out of the three countries which distrust business, two are from Asia-Pacific — Japan (47%) and South Korea (38%). Only six countries trusted the government, with four being from the region — China (89%), Indonesia (76%), Singapore (76%), and India (76%).
Business is also the only global institution seen as both competent and ethical, ranking 54 points higher in competence and 30 points on ethics than government, which is viewed as unethical and incompetent. Companies' treatment of employees during the pandemic and exit from Russia following its invasion of Ukraine, fueled a 20-point jump in business's ethics rating over the last three years, Edelman said.
Income-class divide drives institutional distrust
The report showed that those in the top quartile of income are more trusting of institutions than those considered low income (bottom quartile). A double-digit trust inequality of this nature exists in 20 of 27 countries surveyed, with Thailand topping the global list with a 37-point income-based trust divide.
Overall, there is a 16-point trust inequality in Asia-Pacific, with differences running into the double digits in eight out of nine countries. The greatest levels of income-based trust inequality are found in Thailand (37-point gap), China (19 points), and Japan (19 points). 
Globally, high-income earners' trust in institutions has risen from 50% to 62% over the past decade while low-income earners have struggled, with trust up from 43% to 48%. The most notable national developments in the past three years when it comes to trust inequality have been in China (from 4% to 19%) and the UAE (from 10% to 19%), while the US demonstrated the largest divide (23-point gap) after Thailand.