Member Spotlight: Bhaskar Majumdar, APACD Member
APACD10th May 2021
Our latest member spotlight sees 10 questions fielded by Bhaskar Majumdar, Head, Corporate Affairs, Communication & Digital, Egis India and APACD Member.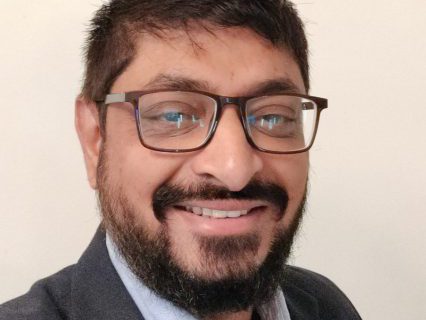 Our latest member spotlight sees 10 questions fielded by Bhaskar Majumdar, APACD Member.
If you are an APACD member and you'd like to take part in this series, please let us know.
Bhaskar Majumdar, Head, Corporate Affairs, Communication and Digital, Egis India and APACD Member.
1. In no more than three sentences: tell us about your experience over the past 12 months, and outline your predictions for the year ahead.
The last 12 months can be called a quiver full of challenges and opportunities.
Talking about the business of communication, specifically, be it public relations, influencer communication or brand and marketing communication, we can clearly state that digital outreach and social media outreach have now become an integral part of all campaigns and it is the future.
While planning campaigns and devising communication strategies, brands are opting for a kind of media mix, which has both digital and traditional approaches intertwined into each other – "integrated communications".
2. Please share a moment from the past 12 months when you saw the direct impact of corporate communications on business performance.
Corporate communication has been a part of boardroom discussions for long. Over the last 12 months, in the midst of the global pandemic, the only way a company could thrive is by managing its corporate reputation, being responsible to all its stakeholders, engaging with employees, and by upholding its ethics, integrity and equity – all of these have a direct impact on business performance.
While in essence, the meaning and importance of corporate communications hasn't changed, its scope and scale expanded and diversified to include many other things. For example, PR shifted from relying exclusively on media relations to a more strategy-centric approach – an omni channel integrated approach. This trend has even altered what was once thought to be outside of the ambit of public relations discipline, such as employee engagement, internal communication, digital/social outreach, CSR, investor relations, policy, secondary research, and brand audits to many newer things. Internal communications played a larger role in connecting and engaging with employees which was much needed during the Covid lockdown period. Internal newsletters, internal mailers, blogs, town house meetings, social media outreach, group discussions etc. became more important during the pandemic, than ever before. All these collectively kept the stress levels low and helped brands to stay afloat in these trying times.
3. Has the pandemic elevated the importance of the corporate communications function?
Certainly it has. Covid 19 has had a huge impact on marketing, branding & sponsorships' spending. The role of corporate communication has also expanded. Brands kept no stones unturned in solidifying their reputation and engaging with their clients, employees and customers alike, during the pandemic. Risk and reputation management reigned supreme and that itself is the KRA of corporate communication professionals.
The past few months have also seen advertising budget and expenditures plummet across much of the world. Brands are either financially distressed or reluctant to spend much on traditional paid outreach campaigns. Also, brand outreach has slowly moved towards digital, compared to what it was during the pre-Covid era. And, the role of corporate communication has also grown manifold in the absence of advertising budget. The corporate communication department is now working closely with all key departments in planning and executing all possible modes of communication. Corporate communication is now a combination of paid media (KOL, bloggers, influencers, youtubers etc), earned media (print, online, third party influencers, webinars, virtual event participation as knowledge partners etc), shared media (social media campaigns), and owned media (website, blogs, newsletters, etc.)
4. In no more than two sentences, describe the opportunities and challenges facing corporate communicators today.
Opportunities are huge as the role of corporate communicators have increased manifold, compared to that in the earlier times. The challenge is to keep your ears on the ground, acquire new knowledge and skillsets and be future-forward.
5. What has been your favourite campaign of the past year? (Not one you were involved in.)
The ongoing campaigns to educate, promote and create awareness on social distancing, wearing masks and vaccination drive by the local authorities, is truly praiseworthy. The use of print, online, social, radio, outdoor, use of celebs and any other possible outreach tools has been planned and executed well for public awareness.
6. What is one thing the industry can to do to improve diversity?
When we talk about diversity, we usually think on the lines of gender diversity. However, diversity is much more than just that. Inclusivity should be in all aspects, from race, religion, nationality to diverse views, opinions, age, skill, personalities, etc. The industry can improve diversity by collectively working towards it and each brand should establish an inclusive culture, create a department that monitors, ensures and protects diversity at the workplace.
Not only would this create a wealthy pool of talent but also ensure adept decision making as each and every resource will bring to the table their own world views, ideas and innovations.
7. Which media title can you not live without? 
I consume all online news. Especially inshorts (short news updates in less than 60 words).
8. Favorite book/movie/podcast that's not related to PR/marketing/business?
Book – Ikigai, The Art of War; Movie – Godfather.
9. How do you switch off?
Yoga, music, cooking and looking after my terrace garden. Also, spending quality time with family is something which I absolutely love.
10. If I wasn't working in marketing/communications, I would be…
Difficult to say, as I always wanted to be part of the communications or advertising industry. Possibly, serving in the armed forces.