Sustainable Communications Programme Works With Charity Partner, Stroke Support Station S3
APACD10th February 2022
SMU students work with professional mentors to build awareness of strokes and stroke recovery.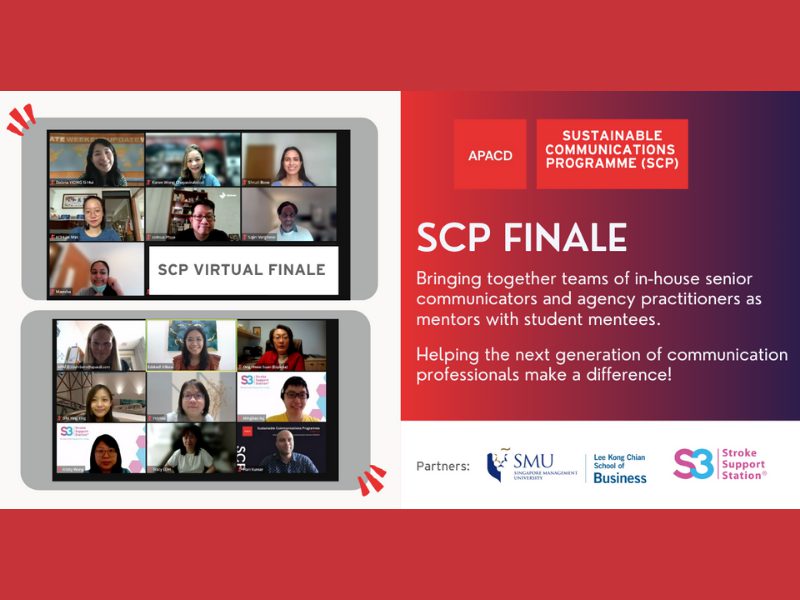 The third cohort of the Sustainable Communications Programme (SCP) in Singapore presented its public relations and marketing ideas to S3, a charity focused on building awareness of stroke and its recovery. Following the launch last October, the students delivered their final presentations in January 2022.
In its second year, the programme places teams of students under the tutelage of experienced communications professionals as they design communication projects for local social enterprises and charities.

The incidence and burden of stroke is increasing with the aging population. At the same time, Covid-19 has changed how Stroke Support Station S3 operates, replacing ground activities with virtual services. S3 is also amplifying the use of social media to market its programmes and services. In a two-hour presentation, Singapore Management University students and mentors collaborated on a marketing and public relations plan to help S3 find new ways to reach stroke victims and their communities.
Two student and mentor teams presented plans.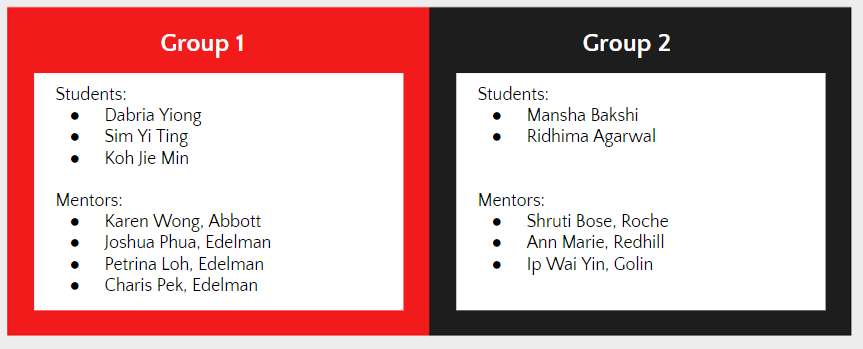 "Team 1's communication strategy focused on the mental health of stroke survivors and caregivers. The effort was designed not to disrupt S3's current practices, but to support the pivotal and often overlooked role of caregivers in a stroke victim's management and recovery," said Karen Wong, Team 1 mentor, regional affairs director from Abbott. The students also leveraged key insights of caregivers and delivered ideas that the client could incorporate in existing initiatives.
"The structure Team 1 came up with does a good job of elucidating how we can work with the community, especially with new media channels which offer avenues for warmer, more personal communication with our audience," adds Kristy Wong, marketing communications manager, Stroke Support Station (S3).
Team 2 first conducted a survey to determine the needs of its target audience. From there, the team developed a three-part strategy involving both media and on-the-ground engagement. Their proposed media initiative combined Instagram stories and quizzes to promote understanding and empathy for the stroke survivor's experience. Direct personal communication included Facebook Live, outreach to stroke survivors' younger family members through local universities, and a Caregivers' Day for caregivers to network, support and learn.
"Team 2's survey helped the team define who they wanted to reach— younger family members of stroke survivors—and how. Although there were challenges along the way, team conditions were less than ideal, Team 2 found smart and creative solutions to address this, such as launching their project with a survey that helped them determine which audience to address and how," said Shruti Bose, Team 2 mentor, ad interim head of communications at Roche Diagnostics Asia-Pacific.
"This experience gives students an edge in the professional world. It helps them develop the personal qualities that will make them effective in the workplace, like tenacity and the ability to develop relationships with people they will only know virtually," says John Morgan, SCP steering committee member and head, group corporate communications, RGE.
"On behalf of SteerCo, I would like to thank Professor Tracy Loh from SMU, Kelvin Goh from the SMU Communications Management Society, communications agencies Wachsman, Edelman, Golin, and Redhill, as well as the mentors who committed their time to this initiative. Finally, I would like to thank the wonderful team at S3 for joining Cohort 3 as our charity partner," says Marla Arnall, SteerCo leader, communications manager, Amazon Asia-Pacific.
If you're interested in becoming a mentor or you're an NGO or social enterprise with local operations in Singapore, please email [email protected]. SCP currently operates in Singapore and Hong Kong and plans to expand across Asia-Pacific. Follow us on LinkedIn.