APACD Awards 2022: Finalists Revealed
PRovoke Media19th September 2022
Winners will be announced at the Asia-Pacific SABRE Awards on 13 October.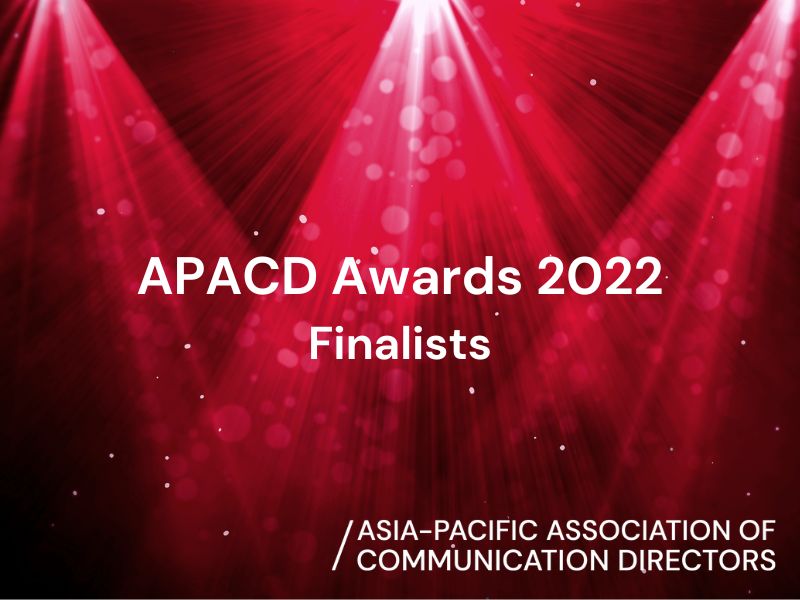 The APACD Awards, which recognise excellence from in-house communications teams and professionals, has unveiled the finalists for its 2022 competition, which recognise the In-House Communications Team of the Year.
The competition was judged by a jury of APACD Board members and local chapter chairs. Winners will be revealed and celebrated at the Asia-Pacific SABRE Awards evening ceremony, which return in person to Singapore on 13 October. Tickets for the dinner ceremony can be secured here.
As the only Asia-Pacific awards scheme that focuses specifically on the in-house communications sector, the APACD Awards not only reflect the unique status enjoyed by the Asia-Pacific Association of Communication Directors (APACD), but also highlight the fundamental role that communications has played at a time of considerable flux. 
"The APACD Awards are designed to recognise sustained excellence among in-house communications professionals and teams," said APACD president Azmar Sukandar. "As the importance of the communications function is rapidly elevated by the remarkable times we live in, it's critical that APACD benchmarks and celebrates the people and companies that are setting standards across our fast-changing region."
2022 APACD Awards Finalists
In-House Communications Team of the Year
Beyond the Box: Communicating a PC maker's transformation into a services and solutions led company — Lenovo with Zeno
Booking.com APAC Communications Team with Allison+Partners Singapore
CoreLogic Media Team by CoreLogic
Corporate Communications Office, Nanyang Technological University, Singapore by Nanyang Technological University, Singapore
Mubadala – Global Communications — Mubadala