Third HK SCP: Students Present Creative Comms Programmes for Local NGOs
APACD11th May 2021
Following three months of planning and preparation, 13 Hong Kong university students virtually presented their final integrated marketing communications plans to two local NGOs – HandsOn Hong Kong and OneSky.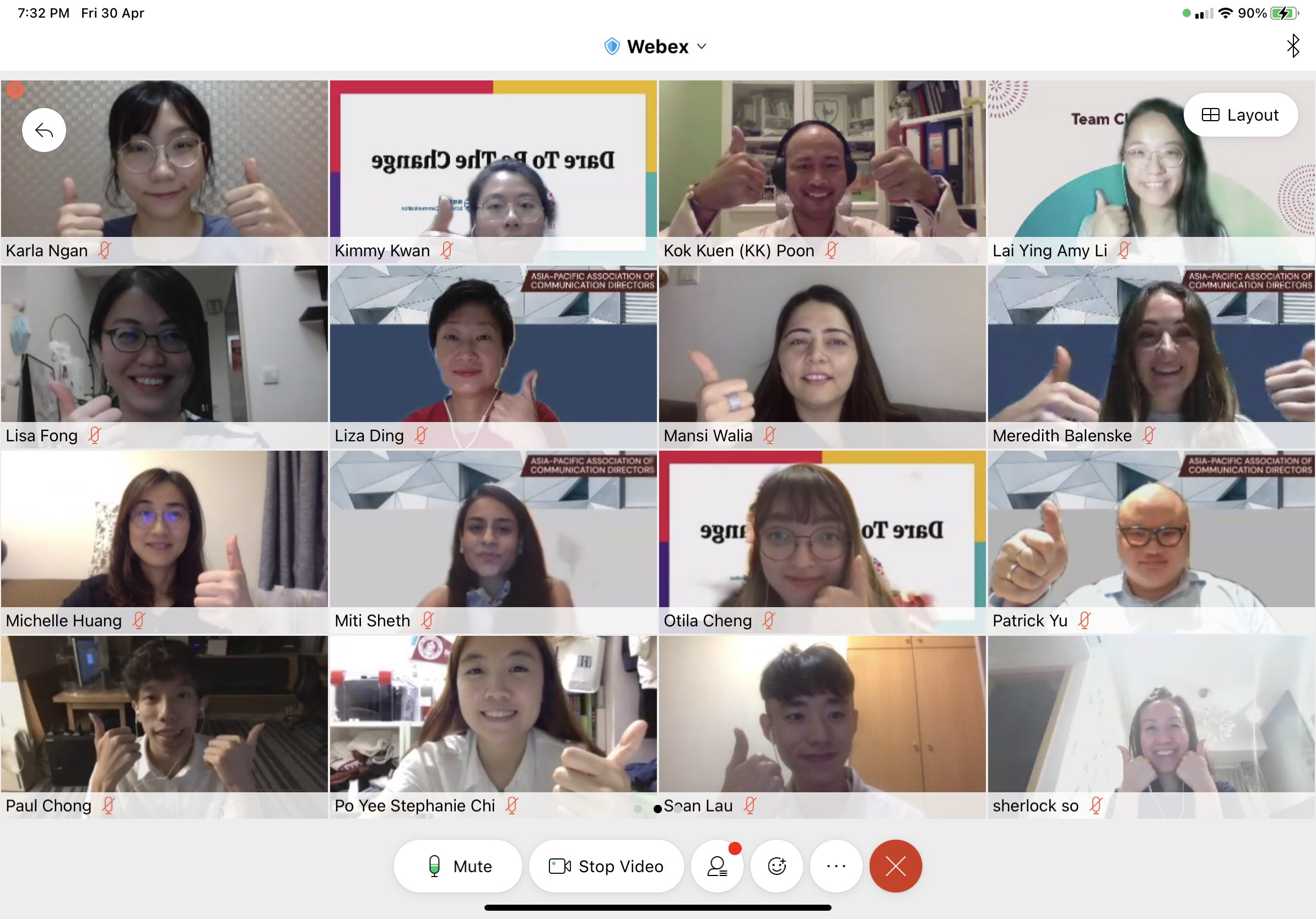 Following three months of planning and preparation, 13 Hong Kong university students virtually presented their final integrated marketing communications plans to two local NGOs – HandsOn Hong Kong and OneSky. HandsOn's mission is to empower everyone in Hong Kong to volunteer and offers opportunities on their website for their network to choose and OneSky trains caregivers and communities to provide care and early education to help at-risk children.
The presentations were the culmination of the third edition of the APACD Sustainable Communications Programme (SCP), which connects local university students working on degrees in journalism, public relations, marketing and advertising with seasoned and emerging communications professionals looking to support the next generation of communications professionals and establish their leadership credentials, with a common goal of making an impact on society. This semester, students from Chinese University of Hong Kong and Hong Kong Baptist University plus four mentee leads (emerging communicators) and four mentors (experienced communicators) formed the two groups.
During the finale presentations which were held virtually this year, team HandsOn, represented by Hong Kong Baptist University, kicked off with a short video recapping their project. The students were tasked by the client to drive awareness and connect them to a younger demographic of volunteers – particularly their peers, university students.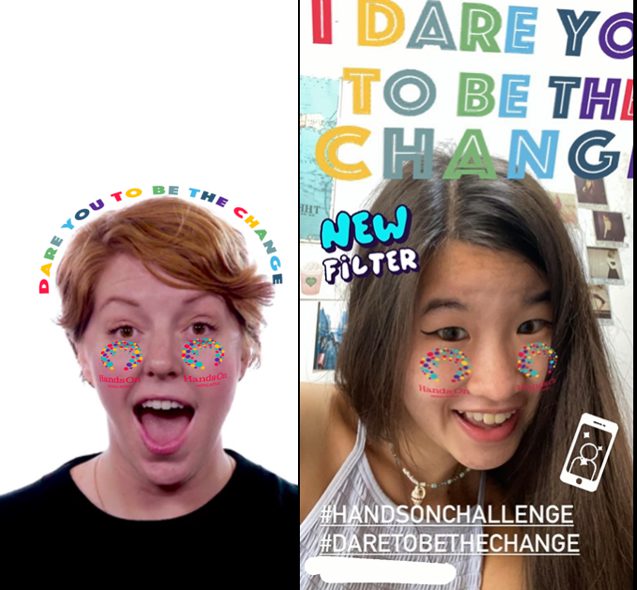 Their presentation detailed a robust and highly creative bilingual social media campaign using Instagram stories, posts and IGTV. They created a HandsOn challenge, branded infographics and storytelling with the goal of increasing followers and engagement to drive awareness and promote volunteerism. Through storytelling they encouraged volunteering by suggesting a new mindset to focus on the change you can make in our own community with the slogan, Dare to Be the Change. Demonstrating their strong understanding of campaign management, the team noted the importance of setting goals and measuring success. Their posts resulted in several hundred views and interactions and allowed them to evaluate the effectiveness of their tactics.
Catherine Dannaoui, deputy executive director at HandsOn Hong Kong gave a brief introduction of HandsOn and its mission and commented on working with the students leading up to this presentation saying, "I was thoroughly impressed with the creativity and enthusiasm of the students throughout the project. Not only did they develop creative ideas to reach and engage our desired audience, but they executed on the campaign plans which demonstrates a high level of professionalism."
Students from Chinese University of Hong Kong partnered with OneSky and were tasked with targeting the local community and its donors to drive awareness and donations. The team established their primary and secondary target audiences and developed a specific and thoughtful digital media strategy which included a social media content and design guide which could support the NGO after the project.
Their plan also included a more traditional media strategy to engage with local Chinese and English media as a method to introduce the public to OneSky, which is relatively new to the Hong Kong community. The team proposed updates to the website and suggested adding more calls to action and a technical SEO strategy. Team OneSky also gave themselves key performance indicators to measure their performance throughout the project and ensure they were delivering on promises to their client. Despite the project coming to an end the team provided OneSky with suggestions for long term strategies for awareness building and maximum impact which suggested partnerships, storytelling and annual activities.
During the presentations, Kok Kuen Poon, one of the four SCP mentors, commented on the project being completely virtual, "I am impressed by the Baptist University students' ability to adopt multiple communication technologies to work together because we were not able to meet in person owing to Covid-19 restrictions. The team's performance was excellent and very professional. They were highly resilient, flexible, and communicated effectively across European and Asian time zones, with a borderless mindset. It is amazing they personified the perfect remote, virtual team while adapting to working in extraordinary and odd global circumstances. The team's success is all the sweeter given they have built a very close bond and working relationship despite having never met before. This communication project is a terrific example of how the power of technology can enable everyone to work together regardless of where we are in the world."
Other mentors and mentee leads that participated in the program included Wendy Pang, Claire Worp, Sherlock So, Rachel Lai, Emily Cheng, Lisa Fong, and Jess Shek.
"The APACD Sustainable Communications Programme is an opportunity for students considering a career in communications to grasp the concept of working with a client while creating a positive impact for local NGOs with limited in-house communications resources," said Karen Khaw, co-founder of the programme. Her SCP co-founder, Harry Thompson, followed up by saying, "It's been incredible to see the growth of the programme over the three cohorts. The students delivered extremely high-quality campaigns and gave excellent presentations. We look forward to continuing to support NGOs, and our next generation of communicators in future rounds."
The finale presentations were hosted and moderated by Arun Sudhaman, CEO and editor-in-chief of PRovoke Media – APACD's official media partner. The two teams presented virtually to a live audience of APACD members in Hong Kong and others from across the Asia-Pacific region.
Arun ended the virtual meeting by asking the students if they were more likely to pursue a career in communications as a result of participating in SCP.
Joyce Yim Tin Ying, a student at Baptist University and HandsOn team member said, "SCP opened my eyes to how the industry works which was one of the main reasons I choose to participate in the programme. It was fun creating content and brainstorming with my group to solve problems and present them to our client. This glimpse into the real world encouraged my interest in pursuing a career in communications."
Another student from CUHK and Team OneSky, Yue Hang Law said, "this program was a way to test myself to see if I was ready to handle a real client and implement a campaign that could help solve real business problems. The programme exposed me to communications tactics I was unfamiliar with and supported my education and preparedness for a career in communications."
The programme's purpose is to prepare and inspire the next generation of communicators with the tools, skills, mentality, and creative mindset to pursue a career in communications, whilst supporting local NGOs with their real-world communications challenges. During the programme, students learn about formal client pitches, social media messaging, budgeting and the other aspects of an overall integrated marketing communication plan. Meanwhile, for APACD'S experienced communicators joining as mentors it's structure that gives them the opportunity to give back to their communities.
The next SCP programme will launch in September 2021, if you are interested in joining us as a mentor (experienced communicator), mentee lead (emerging communicator) or a NGO with local operations in Hong Kong please email [email protected].
Due to the success of the programme in Hong Kong, APACD's local Singapore chapter has also launched the SCP and has plans to expand to other markets across Asia-Pacific in 2021 and beyond. You can follow our LinkedIn page to stay up to date on news and events.
APACD & Local HK University Students Kick Off Program To Suppport NGOs' 2021 Communications Needs